As we work together on a Strong and Healthy Start to the 2020-21 School Year,  the AOE has developed the Wellness Check Survey, a responsive web application on the Salesforce platform, and is offering it as a free resource to supervisory unions and independent schools to help prevent the spread of COVID-19 and promote the overall health, safety and wellbeing of our student population, faculty, staff and statewide community.
What is the Wellness Check Survey?
The Wellness Check Survey is a brief, online health self-assessment that enables students, parents, faculty and staff to quickly inform school officials whether or not they are experiencing any symptoms that may be related to COVID-19. The Wellness Check Survey only takes a few moments to complete.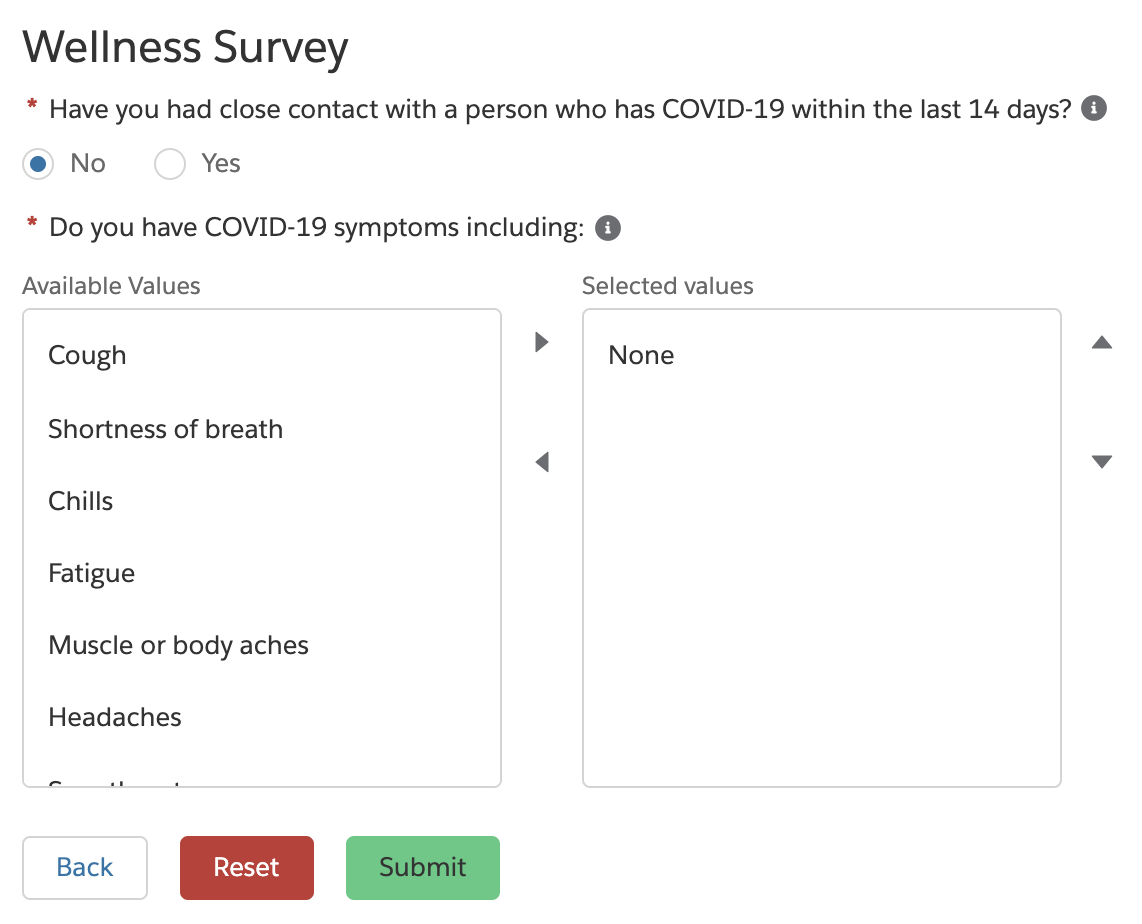 If the individual is free of symptoms, the survey immediately displays a message that informs the individual that they are confirmed to attend school in person that day. However, should the individual report any symptoms that may be related to COVID-19, the survey displays a result that notes this individual cannot attend school in person for that day.
School administrators are able to print a daily report of students, teachers, and staff who have completed this survey for verification upon entry into the school building. The Wellness Check Survey also provides the ability for a School administrator to complete the survey in collaboration with a student or staff member for any individual that did not complete the survey prior to arrival at school. Individual staff and student data will be protected and under the purview of indivindual SU/SDs or indepedendent schools. Aggregate data has the potential to inform policy decisions at the state level if implementation is sufficiently broad. 
The Wellness Check Survey fulfills that SU/SD or independent school responsibility to conduct daily monitoring for COVID-19 exposure and symptoms, as detailed in A Strong and Healthy Start: Safety and Health Guidance for Reopening Schools, Fall 2020. SU/SD or school leaders who are interested to learn more about implementing the Wellness Check Survey at their school should contact the Agency of Education at aoehealthcheck@vermont.gov.
See the Wellness Check Survey in Action
This video demonstrates the student and staff experience submitting the Wellness Check Survey.