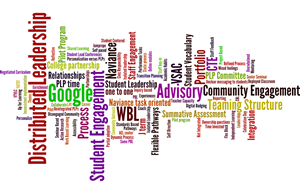 Over the course of the FY16-17 academic year, the Personalized Learning Team visited a number of schools around the state – from Bennington to Canaan – to have conversations about the successes and challenges of implementing personalized learning and flexible pathways at their schools. Many themes emerged from those conversations and informed the development of updated resources and a professional learning series that can be found at the Vermont Professional Learning Network. 
Personalized Learning /Flexible Pathways Grants
In the spring 2017 the personalized learning team awarded 14 Flexible Pathways grants to Supervisory Unions to support their work in the following areas: 1) Developing and Scaling Career Advisory; 2) Integrated Expanded learning Opportunities into Personalized Learning Plans and Flexible Pathways to Graduation; and 3) Developing Work-Based Learning at the Secondary Level. Review the summary of all the Flexible Pathways Expansion Grants.
Check out some of the work being done by our grant recipients: