Proficiency-Based Graduation Requirements (PBGRs) are the locally-delineated set of content knowledge and skills connected to state standards that, when supplemented with any additional locally-developed requirements, have been determined to qualify a student for earning a high school diploma. Vermont's Education Quality Standards (EQS) require that schools' graduation requirements be rooted in demonstrations of student proficiency, as opposed to time spent in classrooms. This requirement will take effect in Vermont beginning with the graduating class of 2020.
The AOE, in collaboration with Vermont educators and staff from Great Schools Partnership, have developed a body of resources for schools, supervisory unions, and districts to use as they develop and implement PBGRs. These include sample sets of graduation proficiencies that are specific to academic content areas (e.g., Math, English, Science), and sample graduation proficiencies for transferable skills that cross content areas (e.g., effective communication, creative and practical problem-solving).
A Vermont Portrait of a Graduate
A Vermont Portrait of a Graduate (PoG) clarifies the expectations for College and Career Readiness as described in the Vermont Education Quality Standards. It specifies the cognitive, personal, and interpersonal skills and abilities that students should be able to demonstrate upon graduation. A Vermont PoG was developed collaboratively by over three hundred Vermont students, community members, and educators. It can be used as a tool for reviewing and refining proficiency-based graduation requirements, as well as a guide for making instructional decisions.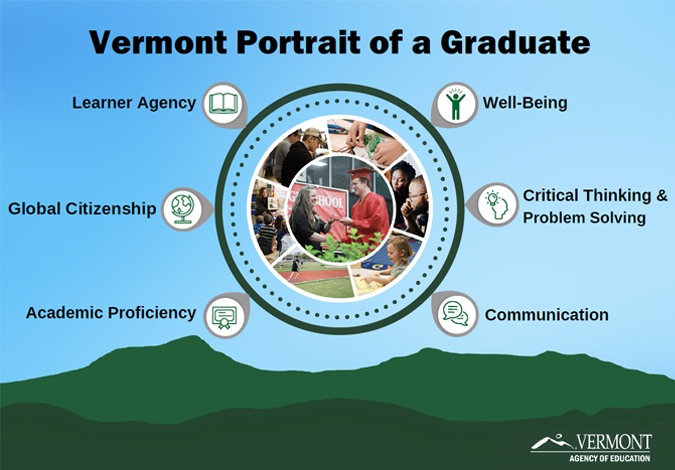 Sample Graduation Proficiencies and Performance Indicators
The sample graduation proficiencies are examples of a rigorous proficiency-based graduation framework that meets Education Quality Standards requirements.
Content Areas
Arts:
Financial Literacy:
Global Citizenship:
Transferable Skills
The transferable skills identified in the Education Quality Standards can be organized in different ways. In the first document, Collaboration, Innovation, Inquiry, and Use of Technology are woven throughout the Performance Indicators. Using this model, students would need to have opportunities to demonstrate acquisition of those skills as a part of attaining their Transferable Skills Graduation Proficiencies. The Transferable Skills in the second document are the specific skills identified in EQS.
Special Education PBGR Resources
The PBGR Access Plan (PBGR-AP) was created to help educators and teams make local graduation requirements accessible for students with intensive needs. With input from stakeholders across the state, the PBGR-AP will replace the Multi-year Plan, which was based around credits/Carnegie units. The PBGR Access Plan will embrace the same spirit of accessibility that the Multi-year Plan embraced. The challenge for teachers will be to implement the PBGR Access Plan where necessary to make the graduation requirements accessible for students who are not able to access the PBGRs without some type of accommodation or modification to the PBGR Performance Indicators. A sample of a PBGR Access Plan for "Kevin" from the AOE Case Study Project and a blank template of the PBGR Access Plan that educators and teams can use for students who need help accessing the graduation requirements. 
Additional Resources
---
Questions?
Email Pat Fitzsimmons or call (802) 828-5896.