The Vermont Agency of Education and Vermont PBS have expanded their partnership to support learning for Vermont students and school communities this school year and beyond. This partnership provides access to free educational programming, curricular connections, and distance learning tutorials through Vermont PBS. Based on teacher feedback, resources for in-classroom and distance learning shift to a monthly overview using analog, digital, and broadcast resources bundled thematically. Read the press release announcing the partnership.
Visit the Vermont PBS Distance Learning page to learn more about the available programming, or consult the programming schedule. 
Vermont PBS Spring and Summer Program Schedule and Resources
Summer learning can be playful and fun. This summer, find resources related to PBS Teacher Planning Kits on our monthly programming schedule. Use these resources to develop or supplement your students' summer learning, both on and offline.
For more information about how to navigate resources, check out these webinars:
How to Navigate PBS Teacher Planning Kits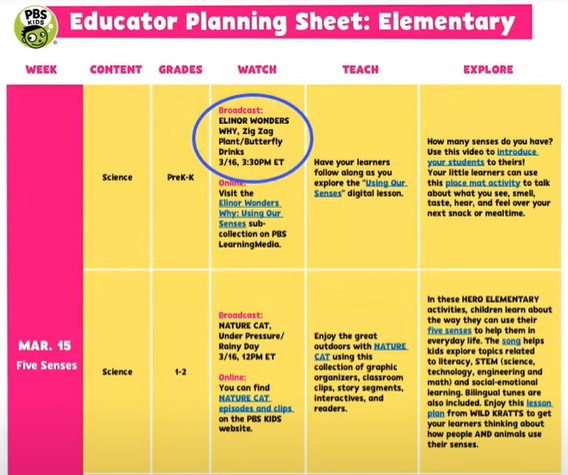 Beyond Screentime: The Fundamentals of PBS Learning Media Navigation
Playful Learning Collections for Home: Resources for Parents
For information about how to support students with disabilities when using PBS programming and resources, see the newly published guidance, Strategies for Supporting Students with Disabilities During PBS Programming and Lesson Planning.
2020 PBS Parent/Teacher Survey Report
The Vermont Public Broadcasting Service (VT PBS) Teacher/Parent Survey was created in order to gain a better understanding of how the programming and supplemental materials provided by the Agency of Education/VT PBS partnership were used by educators and parents as they rapidly pivoted to remote learning due to COVID-19. The data from this survey is informing decisions to improve these supports for the fall.
Vermont educators can create a free PBS LearningMedia account to access additional features, including
Resources aligned to state standards

The ability to save, download and create content using their favorite resources

Access to teacher tools to build quizzes, puzzles, and storyboards
How Educators Can Integrate PBS Learning Media into PreK-12 Instruction (4/16)
PBS Programs and Content Connections
The Incorporating PBS into Your Classroom documents are organized by content area as well as grade level and make connections between PBS programs, standards, and supplemental resources. Click on the graphic to learn more.
The document below identifies the content connections to various PBS programs for children ages two through eight. It can help guide decisions by educators and parents regarding which programs might be most beneficial for children at a certain point in time. Click on the graphic to take a closer look.