"If you talk to a man in a language he understands, that goes to his head. If you talk to him in his language, that goes to his heart". 
~ Nelson Mandela
In 2019, the Vermont State Board of Education adopted the American Council on the Teaching of Foreign Languages (ACTFL) World-Readiness Standards for Learning Language Standards. With the adoption of the ACTFL standards, it is expected that the Supervisory Union/ Supervisory District instruct and assess world language concepts based on the standards; how that is accomplished is locally determined (Education Quality Standards [EQS] 2111, 2120.5, 2123.2).
The Importance of World Language
The study of world languages benefits students on multiple levels. The understanding of another language enables students to communicate and connect with others. Language learning also increases learner awareness of other cultures while helping individuals see and appreciate their own communities from a fresh perspective. Additionally, the comparisons students can draw between their immediate environment and those across the globe lead to a diversity of thinking and appreciation of differing viewpoints.
World language study opens the door to opportunity and provides a competitive edge in our global economy. Research shows a direct correlation between bilingualism and problem-solving, metalinguistic skills, memory, verbal and spatial abilities, intelligence, performance on tests and success at the college level. Recent research also suggests that language learners develop a more positive attitude toward the target language and/or the speakers of that language.
Spotlight on Equity Resources
Educational equity means that every student has access to the resources, opportunities, and educational rigor they need at the right moment in their education, whatever their race, gender/identity, sexual orientation, ethnicity, religion, language, ability, family background, or family income may be. (Adapted from CCSSO, Leading for Equity.) The Spotlight on Equity Resource below provides a list of considerations and resources for the purpose of supporting equity and access while emphasizing high-quality and culturally sustaining learning opportunities for all students.
Section List
A Vermont Portrait of a Graduate and World Language
Proficiency–Based Graduation Requirements
Vermont Foreign Language Association
A Vermont Portrait of a Graduate and World Language
A Vermont Portrait of a Graduate (PoG) was collaboratively developed to be used as a tool for reviewing and refining local proficiency-based graduation requirements, as well as a guide for making instructional decisions. The PoG specifies the cognitive, personal, and interpersonal skills and abilities that students should be able to demonstrate upon graduation considering six attributes: learner agency, global citizenship, academic proficiency, communication, critical thinking, and well-being. Additionally, each trait includes key descriptors and performance indicators.
World language education programs should provide students with valuable learning experiences that support the development of PoG skills and abilities. The following diagram highlights specific terms that link to the six attributes of the Vermont Portrait of a Graduate.
The Vermont Framework for Proficiency: World Language Literacy description serves as a foundation on which to build World Language Proficiency-Based Graduation Requirements, Critical Proficiencies, and Priority Performance Indicators.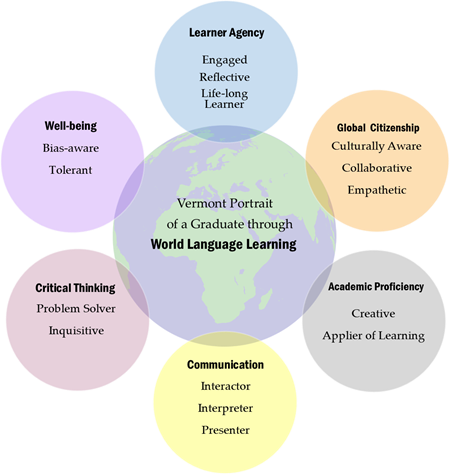 A Vermont Portrait of a Graduate through World Language provides a detailed description of how the specific terms identified in this diagram link to the PoG attributes and connect to world language content and skills with the purpose of assisting students develop the ability to communicate effectively in more than one language with cultural competence and understanding.
Proficiency-Based Graduation Requirements
After the ACTFL standards adoption, a group of K-12 educators from across the state developed The Vermont Benchmarks and Indicators for Proficiency in Non-Native Languages as sample proficiency and performance indicators for Supervisory Unions and Districts to utilize as appropriate. This document was written with a variety of audiences in mind: preschool to college world-language teachers and teacher educators, curriculum developers, administrators, policymakers at all levels of government, parents, and business and community leaders. The goal of the document is to describe for all audiences what language learners should be able to do at various proficiency levels; it does not prescribe how learners should get there. The developers of the resource encourage educators to implement the indicators with the understanding that individual teachers can be flexible in adapting them to meet the developmental stage and level of readiness of their students.
The Vermont Seal of Biliteracy
The Vermont Seal of Biliteracy is an award given by the Vermont Foreign Language Association, under the authorization of the Agency of Education, in recognition of students who have studied and demonstrated proficiency in English and one or more languages by high school graduation. The Seal of Biliteracy takes the form of a seal that appears on the transcript or diploma of the high school graduate and is a statement of accomplishment and formal recognition that can be communicated to future employers and college admissions. Recognizing that all students should have the opportunity to achieve this honor, there are both multiple entry points and multiple methods for demonstrating proficiency in English and a second language to qualify students. Visit the website to learn more about the Seal, including details regarding eligibility, assessments, and application.
The Vermont Foreign Language Association
Vermont Foreign Language Association (VFLA): The VFLA is an active and collaborative organization of professional educators who strive to promote best practices in foreign language instruction in Vermont. The Association also serves to provide opportunities for both leadership and advocacy in world language education, as well as opportunities for students to share their learning in unique formats.
Resources
ACTFL: The national ACTFL site provides comprehensive support for world language teachers, including information regarding teacher workshops and mentoring, assessments and standards, as well as resources that address issues of race, diversity and social justice:
The ACTFL Teacher Resources information is adapted from NYSED: World Languages.
---
Questions?
Email Martha Deiss, or call (802) 828-6597.